Christmas Crackers
What to wear in the season of spending goodwill!
Christmas is one day. I have said it before and I'm saying it again. Why does it take over so much of our time and money in the preceding months if it is only a day! It so easily snowballs with gifts, food, entertaining, new outfits and before you know it the cost is running into four figures without you even trying. I confess to getting completely swept along by it all many a time. Once the tree is up and the carols are playing, my resolve weakens and I fall prey to the retailers seasonal assault on our festive good nature and I'm off. The new dress, the extra decorations, the presents for everyone including the milkman , hair done, nails done, cried at the John Lewis ad and watched The Snowman on repeat whilst eating a mountain of pringles. But my word doesn't it mount up!!
So,this year we have all agreed to only swap presents around the extended family for children. My husband and I will of course buy each other something. When you have a large extended family it becomes expensive not only to buy presents for people, but for people to buy for you. We are always conscious that there are five of us - not a cheap family to buy for. This way we can focus on the adults birthdays throughout the year instead and get them something worthwhile then instead. I sensed relief from most people we talked to about this! This will save us hundreds of pounds so that's a good start. My children are going to have inventive presents and I am using every deal and voucher I have at my fingertips again to keep the cost down. We are sharing Christmas dinner at my mums this year. Everybody is bringing something. My job is roast potatoes and a Mary Berry chocolate log. Already I can feel the pressure is off and Christmas has become less complicated again.
We do have a few events to go to and I don't intend on missing out on the festivities so I will be dressing up, but do I need another new dress, really? I have a ball to go to, but I really don't want to spend all that money on a dress I will wear once. I would rather have those Ash Jalouse ankle boots I am hankering after please!
Now if you read my blog, you know me well enough now to know when I can afford to, I love a good shop, but I have looked realistically through my wardrobe and I have a number of combinations that I could easily rehash to seem new to save me spending out again. I know a new dress is nice, but only when you can afford it. If you are facing some events this Christmas and need some festive outfits, but don't have the budget to buy an expensive new dress, here are my suggestions for an upgrade of your existing wardrobe.
Don't spend money you don't have - you will regret it later!

Look at your existing wardrobe with fresh eyes

Turn an existing dress into a smart/casual outfit by adding some new sparkly leggings.

Change the feel of last years dress by adding new accessories or shoes - less expensive than buying a whole new outfit.

Could you have anything in your wardrobe altered? I have a ball to go to on the 30th Nov. I have a beautiful dress from Wallis , but it has a small 'train' I don't like. I've not worn it for years because of this so I am altering it and removing the 'train' myself.

Swap with or borrow from a friend.

Scour the charity stores - harder to find , but dresses are out there!

Dress up a pair of wide legged black trousers with a new sparkly top and jewellery.

Focus on a great hair do and some statement jewellery to jazz up an existing outfit.

Focus on the night out and the people you are with and have a great time, new dress or not!

Go for dramatic red lips and a bright manicure - a party look in any outfit!
Here are some of my picks to top up an existing wardrobe for the party season. All £50 or under.
I need to state that I am not an over the top dresser so if you are in the market for something extremely flamboyant and over the top Christmassy , then look away now :
Stella and Dot have a sale on at the moment. Lots of items to choose that are reduced and many below £50. I have now written my wish list for my hubby for Christmas! I adore these earrings at £22.50 , reduced from £45...hint hint OH.
Black Velvet Tapered trousers from Next. I think these would look great with some
sparkly heels and a statement top.£32
Basic Sling Backs With Ankle Strap from Zara
. These are a great shoe for only £29.99 and a festive colour too - stunning with black trousers.
Short Knitted cardigan with sequins from H and M . £24.99. Would look equally great with jeans or paired with a dress on a night out. Multitasking item for sure!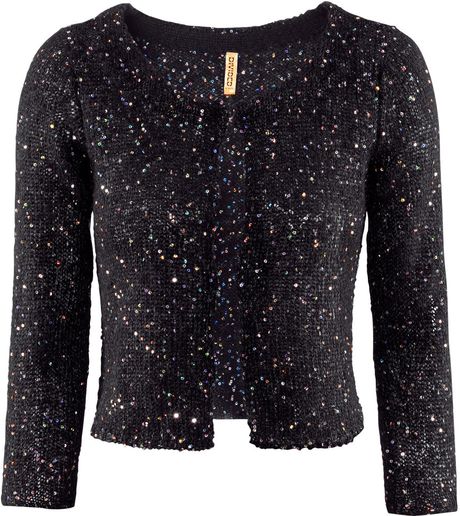 Topshop Glitter Flock Leggings
£28.Not too over the top! Perfect under a tunic or dress to change an outfit .
Urban Code Black leather clutch Bag with Shoulder strap at Asos
. Love this! £50 was £108. Very tempted.
Snakeskin print
.
coated jeggings from M and S Perfect under a shorter dress to make a different outfit - and can be worn after the party season has finished too. £35
If you are in the market for something a bit more sparkly to carry how about this from
Next, Glass bead Clutch
for £35.
Have you equipped yourself with sparkles and sequins in preparation for the onslaught of Christmas or are you sitting this one out?!