SuperDrugs Vitamin E Hot Cloth Cleanser
I have followed with interest the arrival of the hot cloth cleansers on the market . In particular of course I have heard a lot about the hot cloth cleanser from Liz Earle. I have decided to look a bit more closely at some of the alternatives to the Liz Earle product over the next few weeks.
I became aware of this Hot Cloth Cleanser form Superdrug through a blog review that looked fairly positive so thought I'd start with this one. I am however, always a little wary of Vitamin E as my skin has a slight intolerance to excessive amounts of it. Despite it's excellent moisturising qualities it can cause greasiness and break outs if not used with caution in some cases ( as can cocoa butter I have heard). However, as it was a cleanser and not a heavy moisturiser I felt it would be beneficial.
This retails at £5.99 for a whopping 200ml tube and is selling at £1 off at the moment. An excellent price and the muslin cloth is included as well. The down side is, it is not free from parabens and is not as natural as the Liz Earle product, but the price of course reflects this. A question again of choice and budget. The cloth is a vital part of these cleansers as the muslin fabric allows an element of exfoliation to occur with the circular massage when removing the cream. You apply the cream to the face in small circular motions and then remove it with the muslin cloth soaked in hot water. You then rinse with cold water.
I have combination skin with occasional dry patches.
I have used this for 6 days so far and I am pleasantly pleased. Although I would say this does not remove all traces of eye make up I am going to be slightly controversial here and say that a facial cleanser should not be doing that anyway. The best way to remove make up fully is to use a proper eye make remover first or as I do, use a precleanse. I use Dermalogicas precleanse. It goes on and feels quite oily, but is not at all. It breaks down even the most stubborn of eye make up. You rinse with water and then cleanse your skin with your chosen facial cleanser. This ensures skin is squeaky clean after cleansing.
The hot cloth cleanser from Superdrug is thick and creamy. It felt lovely on my skin, although I would not recommend using more than a small 10p amount as it goes a long way. The hot cloth feels smashing on your skin, cleanses the skin completely and I must confess my skin looks all the better for it. I am combining it with my dermalogica moisturisers and scrubs, but at the moment it seems an excellent buy. Good value for money and a great product. You can buy SuperDrugs Hot Cloth Cleanser here
I've decided against the Liz Earle cleanser myself as I have read just one too many reviews about people who had reactions to it with their skin breaking out. With my sensitive skin I think I would be one of the unlucky ones here. However, there are a number of other Hot Cloth Cleansers on the market now that are worth a look at and depending on your requirements and budget, definitely worth a try. Here are 5 that I think look a good and vaired selection. I will be reviewing a couple of these over the next few weeks.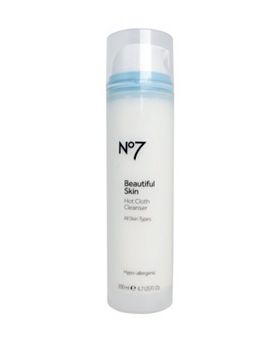 Soap and Glory Fab Pore Hot Cloth Cleanser. £10 for 100ml. Purchase here
Pai cleanser with muslin cloth. £25 for 100ml. Paraben free. Purchase here
If you lose or need extra muslin cloths they can be bought from a variety of places. These are some I like:
Where are you on the Hot Cloth Cleanser Band Wagon?