One in each colour please.
I am someone who feels the cold. I am sat here typing with a hot water bottle and rug over my knees. Oh dear middle age image is now firmly lodged in your minds. Anyway , Winter Boots. Warmer than the old ankle biters. Bit more pricey in general, so have to last a few seasons to justify their expense. Oh, and one pair will never do. There has to be more than one pair. Thats the rule.
I am not buying this year. I am only looking. I have three pairs that are perfect in every way.
Fly Boots 2011. Used for everyday marching.
Russell and Bromley Tan Heels 2011. For when I am feeling a bit more grown up.
Fly Black Wedges 2010. High, but comfy and so so warm. Love.
I
always feel with longer boots it is harder to get away with cheap alternatives. When there is so much leather on show, it just has to be leather or it looks cheap and does not last in my experience. This is one of those occasions where I would say spend a bit more , make it last and save your pennies in the long run. Having said that, there are some good and reasonably priced leather boots on the high street at the moment, so If you are in the market for a pair of long winter boots here are my favourite picks .
Wedges
I would adore these Moda Pelle boots and am seriously tempted already. I am a bit of a wedge addict. I find them comfy and easy to walk in and I love the way the heel is broken up in this pair.
Javari
stocks these boots in all three colours for £155.95.
Update -I've just found that Simply Be also stock these boots and you can get 10% off if it is a first time order through Savoo. I am caving in.....almost
Moda in Pelle Spartica Boots in tan ( other colours) £155.95
I
f you have a little more cash to splash these beauties at L.K. Bennett have caught my eye. These again come in three colours, but this taupe colour called Smokey Quartz are stunning.
L.K. Bennett
stock all three colours.
L.K Bennett Zinnia Wedge Suede knee high boot £325 ( 3 colours)
My final wedge is from John Lewis and is a tad cheaper at only £47, but a very tempting price indeed. The Penny Wedge heel comes in either black or brown. It may well be synthetic, but for £47 we won't complain too loudly. ( Note here - John Lewis you need to improve the quality of your photos in your shoe section - terrible !)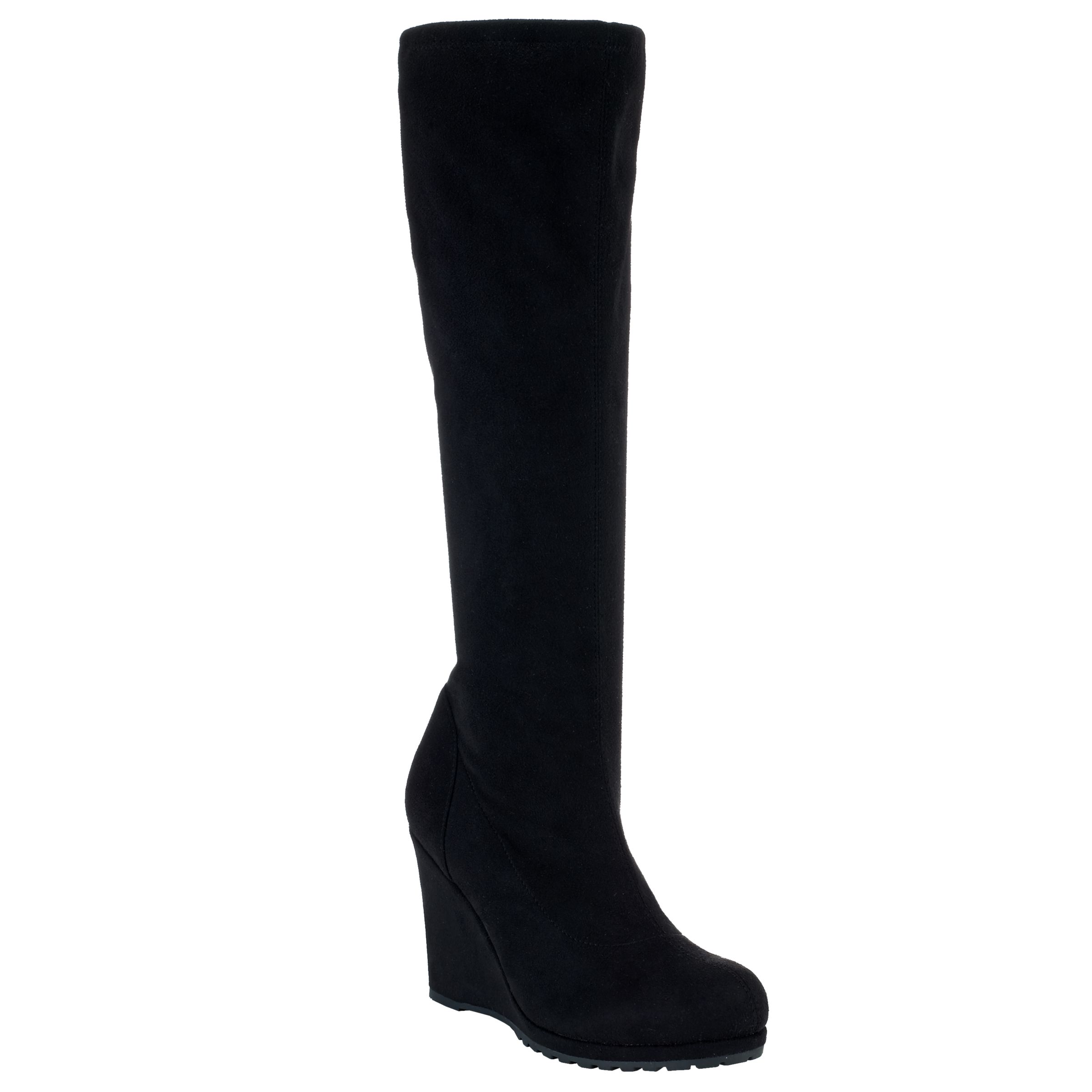 John Lewis Penny Wedge Heel Black £47 ( also in brown)
High Heels
We move onto the high heels . I think browsing the internet, then trying on instore is the way to go here. You never know how wearable heels are going to be. Something with a deep sole is always a winner for me. These Bruno Premi Boots look to have just that, so would definitely be worth a try. You can buy these at
Yoox
.
Bruno Premi High Heeled Boots £135
Gorgeous Nine West Eye Candy . What more can I say . If you have the dosh - go get them!
Craftwork N £245
The "Can you tell I'm not leather" question. Sometimes you strike lucky. This is a very lovely colour and price. It also has the required depth to it's sole! ( No pun intended.) The proof of the pudding would be seeing them in the flesh I feel. You can buy these at
Heels.com
G by Guess Teza - Dark grey LL £43
The Flats
My choices for the flats! The old favourites have come up trumps.
M & S
continue to improve their shoe range and every year come out with something to compete with the other high street stores, and the price is oh so tempting on these Footglove knee high boots. I suspect a few of these will be slipped in amongst the grocery shopping this winter. The
old Mol Fly Boot
s are still going strong. ( Mine gave up last year after more than a fair bit of use!)You just can't beat them. Oh and finally
Clarks
- yes they have done us proud ladies this year. A fab range of ankle and knee high boots. These little Mascapone stunners would do perfectly for that school run I feel.
Clarks Mascapone Mix £120. 20%0ff at Clarks until 15th October. Enter BOOST at checkout.
Fly Mol low wedge boots £135
M & S Footglove leather knee high boots £89
Have you purchased any long winter boots yet this year?